The American Society on Aging's bi-monthly newsletter, Aging Today, interviewed Joan Lunden about her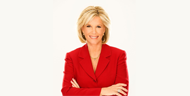 work with A Place for Mom and the need for having a plan in place for your aging parents. Lunden uses her platform as former Good Morning America host to advocate for senior care.
Aging Today asked Lunden about her mother and the obstacles she faced while caring for her:
I was so unprepared, and had no plan in place. I'm sorry to say that I think [that's] typical. It's just part of human nature—we want to think of ourselves as kids and our parents as in charge, impenetrable decision makers. But there comes a time when they're not. … The day you have to become a parent to your parent is unnatural, and uncomfortable. You don't want to burden your parents by asking what their plans are for later life, you don't want to be presumptive or make them feel awkward, but if we don't ask, [their care] might financially devastate our own family. And our parents are reluctant to answer, which is also part of human nature because it represents their mortality.
It is important to establish a plan for the elders in our lives, so the people who mean the most to us are taken care of in a healthy setting. Green House homes offer home for life in an empowering environment so that our loved ones experience meaningful life.
Click here to read the full interview.
---
The Gerontological Society of America's 67th Annual Scientific Meeting is going on now, from November 5 to November 9. "GSA's Annual Scientific Meeting brings together more than 4,000 of the brightest minds in the field of aging," and recognized the Robert Wood Johnson Foundation's session entitled Green House Nursing Homes: Impact and Outcomes as the 2014 Ollie Randall Symposium. Every year, the Gerontological Society of America's Social Research Policy and Practice (SRPP) "recognizes a symposium that examines cutting edge issues with broad implications for policy or practice."
Ollie Randall was influential in the field of aging.  "She was the driving force behind the first housing for older people in New York City" and was President of The Gerontological Society. She was known as being outspoken on the issues of "sustaining and enhancing individuality in the later years." The GREEN HOUSE® Project represents what Ms. Randall stood for by offering "services that were individualized and tailored to meet the diverse needs of elders."
This year's meeting theme "challenges researchers to present their best evidence on aging-related connections they investigate, ranging from the smallest particles examined in the lab to the most macro-level issues examined globally."  The GREEN HOUSE® Project embodies this mission by offering an evidence based model as an alternative to institutional nursing homes.
---
The film Alive Inside, which documents "music's capacity to reawaken our souls and uncover the deepest parts of our humanity," is now available on Netflix. It is a touching documentary that "follows socia
l worker Dan Cohen, founder of the nonprofit organization Music & Memory, as he fights against a broken healthcare system to demonstrate music's ability to combat memory loss and restore a deep sense of self to those suffering from it." Alive Inside was featured on Dr. Bill Thomas' Second Wind Tour, which also included guest presenters, Susan Frazier and David Farrell of THE GREEN HOUSE® Project.
Alive Inside inspired the Music and Memory Program. MUSIC & MEMORY℠ "is a non-profit organization that brings personalized music into the lives of the elderly or infirm through digital music technology, vastly improving quality of life." Their purpose is to "train nursing home staff and other elder care professionals, as well as family caregivers, how to create and provide personalized playlists using iPods and related digital audio systems that enable those struggling with Alzheimer's, dementia and other cognitive and physical challenges to reconnect with the world through music-triggered memories." The results are stunning and  powerful.
The Wisconsin Music and Memory Program is a state-wide program "designed to bring personalized music to individuals diagnosed with Alzheimer's disease and other related dementias." So far, 100 nursing homes have been certified as MUSIC & MEMORY℠ facilities, funded through the Wisconsin Department of Health Services. The Green House home, Lutheran Homes of Oshkosh, was accepted to become a certified MUSIC & MEMORY℠ facility. This program requires "nursing home staff to attend a series of three 90-minute webinars, taught by MUSIC & MEMORY℠ founding Executive Director, Dan Cohen, MSW."
The Music and Memory Program is changing the way people with dementia are cared for, by unlocking words, memories and thoughts that can't always be accessed in an institutional setting. Here at the GREEN HOUSE® Project, we are excited about the change in care that this program can bring, and we look forward to seeing MUSIC & MEMORY℠ in every state.
---
We hope you join us in Nashville at the Leading Age Annual Meeting and Expo October 19-22. The meeting "connects thousands of aging services professionals who are facing the same triumphs and challenges that you face every day."
Come see us at booth 2331 where you will have a chance to win Atul Gawanded's new book, Being Mortal, which highlights The Green House model as a place to live a meaningful life. Additionally, we are co-
hosting the Reception for Person Centered Care Leaders, along with the Eden Alternative, LifeBio, It's Never 2 Late and Penner Spas. And on Wednesday, October 22, from 1:30pm – 3:00pm you will have a chance to hear us speak in a breakout session called Green House homes: Challenges and Opportunities.
We look forward to seeing you there as we re-define age.
---
If you have knee pain, try dancing the aches away. As reported in
Mcknight's
, Saint Louis University's School of Nursing released a study of elders who complained about knee pain or stiffness in their joints. The results showed that those who danced reported less pain.
"The researchers separated the senior residents into two groups — one group that danced for 45 minutes up to two times a week and another group that did not receive any kind of dance therapy. On average, those in the dance group attended 21 out of 24 sessions.

Results showed that participants in the dance group were able to walk faster and reported less pain. In addition, residents in the dance group took 39% less pain medication while participants in the non-dance group took 21% more medication."
Although this was a small study consisting of 34 participants, with an average age of 80, "the dance therapy sessions became a regular program after the study was finished." They plan to continue researching the benefits of dance on the body's joints.
Click here to read the published study, and don't stop dancing!
---
Green House Homes are known for providing a healthy and stimulating environment to their elders. Meaningful life is key to the Green House Project's mission. And now there is research to support the importance of intellectual stimulation as one ages.
The Association for Psychological Science conducted a study whereby 221 people, ages 60-80 were randomly assigned an activity to engage in, ranging from learning a new skill to participating in more familiar activities, to study the effects on one's memory.
"Some participants were assigned to learn a new skill — digital photography, quilting, or both — which required active engagement and tapped working memory, long-term memory and other high-level cognitive processes.

Other participants were instructed to engage in more familiar activities at home, such as listening to classical music and completing word puzzles. And, to account for the possible influence of social contact, some participants were assigned to a social group that included social interactions, field trips, and entertainment."
The results indicated that those who learned a new skill showed improvements in their memory.
"'It seems it is not enough just to get out and do something — it is important to get out and do something that is unfamiliar and mentally challenging, and that provides broad stimulation mentally and socially,' says psychological scientist and lead researcher Denise Park of the University of Texas at Dallas. 'When you are inside your comfort zone, you may be outside of the enhancement zone.'"
THE GREEN HOUSE® Project strives to provide a home setting where elders can take part in any activity they wish, whether it be a familiar hobby or learning a new skill, to keep them engaged and living a meaningful life. So, get out there and take a photography class or learn to paint your surroundings, as it will have lasting effects on your memory.
Click here to read the full study.
---
This week is National Nurses Week. Nurses play an integral role in Green House homes by empowering care teams and bringing knowledge and skills to the Shahbazim. Without nurses, Green House homes could not offer the high level of person-centered care and meaningful life to their elders, that is synonymous with THE GREEN HOUSE® Project. So, let's take this opportunity to celebrate the nurses who take care of us, who worry about us, and who allow us to do our jobs every day.
"Every day, nurses step forward embracing new technologies, resolving emerging issues, and accepting ever-changing roles in their profession. They lead the way for their patients, colleagues, organizations, and the health care industry as a whole."
Watch a message from Karen Daley, the President of the American Nurses Association, here.
Starting on May 6, National Nurses Week began as National Recognition Day for Nurses, but has since gained an entire week! "National Nurses' Week was established in 1993 by the American Nursing Association to recognize and celebrate nursing professionals. National Nurses' Week runs through May 12, which is the birthday of Florence Nightingale, the British woman considered the founder of modern nursing."
If you're looking for ways to celebrate the special nurses in your life, the American Nurses Association has put together some ways to promote National Nurses Week: Suggestions on How to Celebrate National Nurses Week.
Take the time to thank a nurse in your life today!
---
Congratulations to Jean Probst, a long time board member of Episcopal Homes of Minnesota, a Green House adopter, for being honored with Trustee of the Year!  Jean was honored at this year's Aging Services of Minnesota Institute and Expo.
Marvin Plakut, the CEO of Episcopal Homes, nominated Jean for this award while recalling a meeting he had with her; "A petite and soft-spoken woman in her 70s, Jean opened the meeting with the comment…, 'I'm troubled by how small your thinking is, Marvin.'"
Jean challenged Episcopal Homes of Minnesota's plan for a $2 million renovation of their Alzheimer's unit with a successful $10 million campaign because "the program and space needed to be totally transformed."
In a letter congratulating Jean, Larry Minnix, the President of LeadingAge, expands upon the concept of small thinking versus big thinking, and "invite[s] all of us to hear Jeans Probst's challenge that we are thinking too small."
To read more about the difference between small thinking and big thinking, click here.
Congratulations Jean! Green House is honored to be associated with transformative thinkers like you!
---
Dr. Bill Thomas' Second Wind Tour kicks off in three weeks. As a sponsor, THE GREEN HOUSE® Project is busy getting ready to revolutionize the national conversation around nursing homes, by bringing attention to our person-centered model with an emphasis on each person living a meaningful life. We are taking this message on the road and hitting 25 cities along the way!
Inspired by Thomas' new book examining the baby boom generation's reluctant generational second coming of age—"Second Wind: Navigating the Passage to a Slower, Deeper and More Connected Life" (published by Simon and Schuster March 11 and named by Publisher's Weekly as a Top 10 Social Science book of 2014)—the Second Wind Tour will visit 25 cities on a national bus tour from March 31-June 6, 2014.
Each half-day performance will be held in a premier theater with two acts. Act one will consist of five fast-paced theatrical monologues featuring a cast of speakers including Dr. Thomas, Susan Frazier or David Farrell of THE GREEN HOUSE® Project, and renowned consumer health expert and TV personality Dr. Janet Taylor. The second act blends the illumination of the deep connections between music, identity, and memory in the form a "marvelous surprise" documentary film preview by director Michael Rossato-Bennett followed by a live musical performance by Musicians for World Harmony founder Samite Mulondo.
If you are interested in attending one of these performances, please visit the Second Wind Tour Website, http://secondwindtour.org/. If you are not near a tour stop or unable to attend, we still want you to be involved! Join the social media conversation by following The Green House Project, @GreenHouse_Proj, and the Second Wind Tour by using the hashtag #secondwindtour.
We are so grateful for the opportunity to spread the Green House vision across America!
---
US News & World Report released a list of the Best Nursing Homes. Of 16,000 facilities evaluated, less than 25% earned a rating of five stars. Among those, 9 Green House Homes made the list!
 Asbury Park Retirement Community – BEST NURSING HOME
Ave Maria Home – BEST NURSING HOME
Buckner Westminster Place – BEST NURSING HOME
Eddy Village Green – BEST NURSING HOME
Eden Rehabilitation Suites and Green House Homes – BEST NURSING HOME
Lebanon Valley Brethren Home – BEST NURSING HOME
Resthaven Care Center – BEST NURSING HOME
The Leonard Florence Center for Living – BEST NURSING HOME
Valley Health Center – BEST NURSING HOME
US News based their results on 3 factors; "Each nursing home receives an overall rating of one to five stars, based on its number of stars in three categories: state-conducted health inspections, how much time nurses spend with residents and the quality of medical care."
To read the full listing, click here.
---
Scott remembers visiting his grandmother in a traditional nursing home. He remembers the institutional environment, and how uncomfortable it was for him. He wondered how this could be the best place for his grandmother.
This experience played an important role in bringing Scott to THE GREEN HOUSE® Project.
"Green House homes are wonderful places for elders. In addition to being a place where elders can thrive, this model addresses the changes in healthcare that emphasize quality care and outcomes. And consumers are clamoring for a new and better model for elder care. The Green House model can be the solution for elder care providers trying to adapt to these trends. It can help them deliver high quality care in an environment that is nurturing, supportive and caring."
Scott joins THE GREEN HOUSE® Project as Director of Marketing and Business Development. He was previously an executive at Lincoln Healthcare Group, an organization that's mission is to improve healthcare in the United States by advancing excellence in leadership, strategy and innovation. As Senior Vice President, he was responsible for Lincoln's Post-Acute segment, which included long term care, senior living and home care. In addition to his focus on the development of thought leadership and innovative education for senior executives, he was responsible for financial results, sales management and marketing strategy, and customer delivery and operations. During his time with Lincoln, Scott combined a fervent dedication to clients with a commitment to healthcare transformation.
Scott held a number of high level executive and marketing positions, including: Vice President of Marketing for Insurity, an enterprise software company; Vice President, Database Marketing & Global Lead Management for Gartner; and General Manager & Executive Vice President for BroadReach Partners, a professional services firm providing outsourced new business development and consulting services.
Scott is a Cum Laude graduate of Connecticut College, and has an MBA from the University of Connecticut with a concentration in Marketing.
---
With the 2014 Sochi Olympics well underway, all the focus is on the young athletes of the world coming together to compete in the XXII Olympic Winter Games. These athletes, who are in peak physical condition and at the top of their game, are rightly celebrated in their home countries for their strength, endurance and good sportsmanship. But they're not the only ones going for gold! The 2015 National Senior Games are just around the corner!
The National Senior Games are "dedicated to promoting healthy and active lifestyles for athletes age 50 and over," and will be held in Minnesota, from July 3 – 16. Over 12,000 athletes, age 50 and up, are expected to compete. The heart of the organization's mission is to promote meaningful life by helping you "Get Fit and Keep Going!" in order to "achieve a healthier body, as well as a healthier mind"
Th
e documentary, Age of Champions, chronicles five athletes who "sprint, leap, and swim for gold at the National Senior Olympics." Watch the trailer here. This movie sets out to teach the secrets behind healthy aging as well as promoting and inspiring a healthy lifestyle. In line with The Green House model, which "embraces elderhood as an opportunity for continued growth and development," the Senior Games promotes "[being] healthy, happy, and fit to 100 and beyond, [encourages] seniors in your family to become more active, [staying] positive through an illness or loss of a loved one, [and sharing ideas] about aging, health, and fitness."
So, as we gather together to cheer on Team USA at the 2014 Olympics in Sochi, Russia, let us be inspired to compete in 2015. To get involved with the Senior Games in your state, click here. Everyone should go for gold!
---