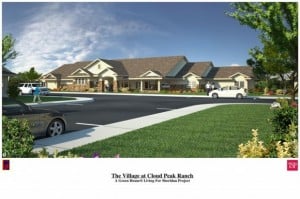 The first grassroots-driven Green House Project eldercare home in the nation is beginning to receive big attention in the state of Wyoming.
The community of Sheridan, Wyo., is building the nation's first Green House Project homes independent of sponsorship or support from an existing nursing home or long-term care organization.
Nationwide there are 99 Green House Project homes in 27 states built and operated by established organizations. But in Sheridan, years of grassroots efforts by local residents and officials has resulted in construction of four Green House Project model homes to be opened by Christmas 2011. The Casper-Star Tribune reports:
Wyoming's first Green House will be the only grassroots Green House in the nation.

Elsewhere, Green House projects have been sponsored by established groups, including religious organizations. Sheridan's project came from within the community and has received heavy financial support from Sheridan residents and organizations.

Additionally, while other projects incorporated the Green House concept into existing nursing homes, Sheridan's is a stand-alone project.
It wasn't easy. Sheridan officials and residents had to fight for support from the state legislature, secure matching grants, a federal loan and $3 million in donations to make the project possible.
Building a Green House Project home without the resources and backing of an existing long-term care organization is an extraordinary accomplishment by the community of Sheridan, said Green House Project founder Dr. Bill Thomas. But it's exactly what he envisioned when created the concept.
Thomas' book "What are Old People For? How Elders Will Save the World," outlines The Green House Project model and includes the concept of "intentional" Green Houses created at the community level.
"Sheridan is proving that people can come together and create intentional homes that will eventually replace the traditional nuring home," Thomas said. "When the world finds out what Wyoming is doing without the backing of a big nursing home operator it will send shockwaves through the long-term care industry."